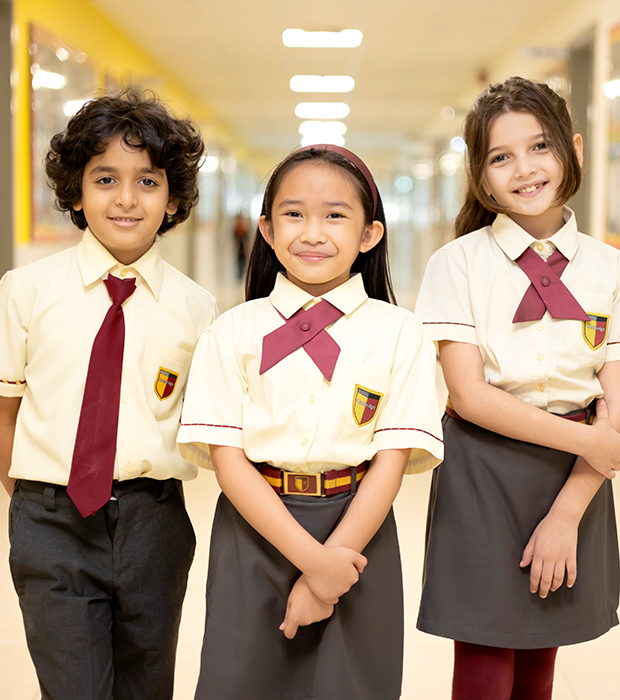 Primary School
Welcome to Primary School at Cambridge International School - Sharjah
At GCS, we follow The National Curriculum for England. The National Curriculum is designed to inspire and develop children's understanding and knowledge. This approach to learning emphasizes on the importance of a skills-based curriculum where learning relates to real life experience through a cross curricular approach. Well-being and values are of high regard at GCS.
The curriculum is divided into core and foundation subjects
Core Subjects

English

Maths

Science

Arabic (for Arabic speakers)

Arabic (for non-Arabic speakers

Islamic Studies (for Muslim students)

UAE Social Studies

Moral Education
Foundation Subjects

History

Geography

Art

Music

Computing

Physical Education
Pedagogy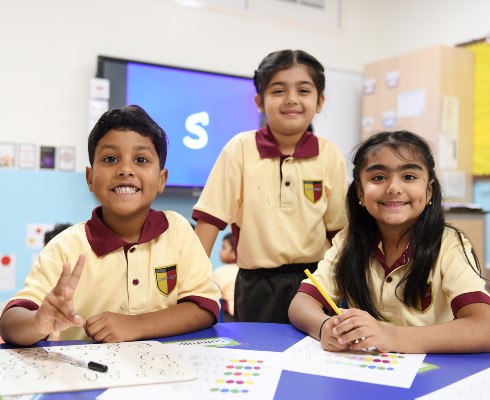 Research shows that young children learn best when they are active, engaged and interested. Here at GCS, we recognise this and lessons are designed and planned for to have a hook, stimulating question and or a thought-provoking picture that engages and excites pupils to have a thirst to learn more.
We believe that a cross curricular approach related to real life skills allows the child to develop knowledge and apply skills learned.
Our teachers and teaching assistants facilitate a collaborative style of learning which encourages children to discuss their ideas with their peers and look at different strategies to solving a problem. This is achieved through explicit modelling, questioning and teaching. Teachers use an ongoing assessment to inform planning and to meet the children's needs.
Across the Primary School at GCS, we provide pupils with different opportunities to develop the whole child ranging from leadership roles, looking after the environment and other external projects. We believe that these extended opportunities support pupils to become confident well-rounded learners. In Math we use a mastery approach using the Power Maths scheme of work which we use across the whole primary school.
Why are there no text books?

The National Curriculum is designed to be creative and inspirational, often text books can limit this process and is seen to be very dated and not in line with the modern way of teaching.

How do Teachers assess if there are no tests?

The curriculum is designed to asses lessons and learning all of the time, against the learning objectives. Children may do end of unit quizzes that will help the teacher to inform her planning and meet the child's needs. Teachers will also asses using the National Curriculum age related expectations. Your child we be assessed at national expectations, below or above accordingly.

How can we support at home?

Reading is absolutely key in English and your home language. Encourage children to tell you about the stories and characters. This will help in all areas. Also knowing times tables also supports your child in all areas of Math.

What are the facilities provided?

At GCS we are extremely lucky to have a newly renovated purpose-built school with top of the line facilities and resources. We benefit from a separate Primary playground with fantastic climbing equipment where children can develop their gross motor skills. We are also fortunate to have a wonderful library, with a range of age-appropriate books to foster a love of reading in our pupils. Children have the opportunity to use our excellent grounds with a well-equipped PE department as well as Astro turf pitches and basketball areas. We are equipped with a range and variety of resources to support their learning across the curriculum. Our classrooms have the latest model BENQ screens which ensures children have access to a wide range of interactive lessons and activities. At GCS we provide children with all the resources (books as well as online resources) and stationery they will need for the whole year which is included in the annual SPEA approved book fees, this ensures parents peace of mind, so that they do not need to purchase any additional books or resources. Everyone who visits GCS always comments on the high quality learning environment and overall welcoming atmosphere in the school.