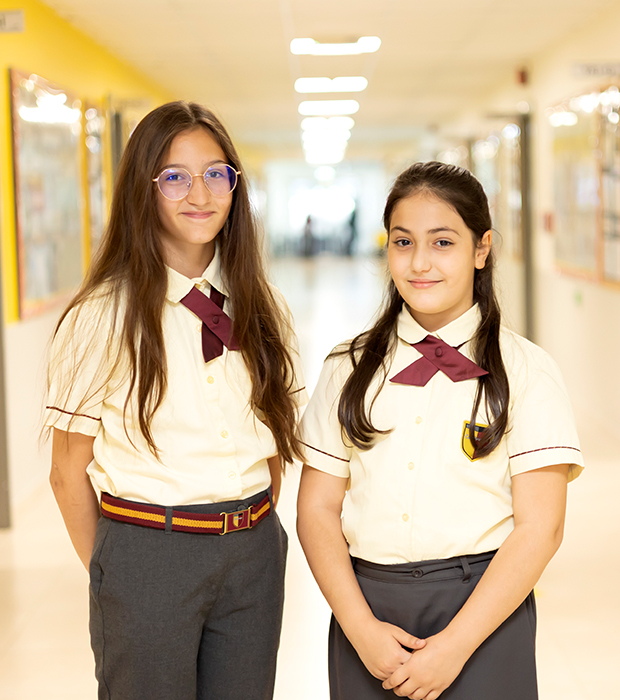 Secondary School
Welcome to Secondary School at Cambridge International School - Sharjah
At GCS, we follow for the National Curriculum for England in the Secondary School. The curriculum is a broad and balanced one that gives students the opportunity to develop their knowledge and skills in preparation for Key Stage 4. This approach allows learning to encompass the importance of the physical, emotional and psychological wellbeing of children which we value highly at GCS.

Design Thinking Approach
The curriculum is broken down individual subjects with a Design Thinking Approach in everything that we do.
Core Subjects

English

Mathematics

Science

Arabic (for Arabic Speakers)

Arabic (for non-Arabic Speakers)

Islamic Studies (for Muslim students)

UAE Social Studies

Moral Education
Specialist Subjects

Computing

Humanities (History and Geography)

French

PSHE (Personal, Social and Health Education) – for Non-Muslim students

Physical Education

Art

Music
We believe that in every subject we offer at GCS we allow for development not just academically but also a student's Communication and Language Development. Personal, Social and Emotional Development, Physical Development and Well-being.
Pedagogy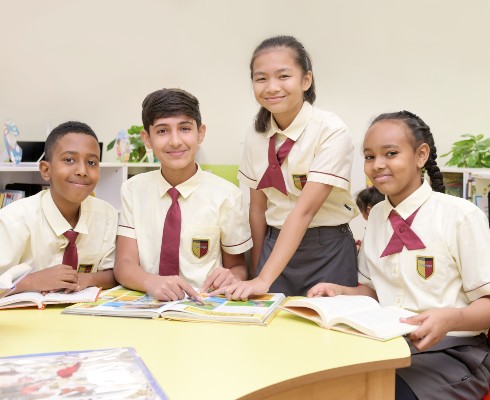 At GCS, we recognise entering Key Stage 3, is a key moment in a child's school life. Our mission is to ensure learners are fully prepared and have a smooth transition in preparation for independent learning, curriculum content and application of knowledge. To ensure this transition process is seamless, all students are supported so that they are all aware of our high standards and expectations of them. This enables learners to feel more confident and familiar with the secondary environment early on.
The curriculum in Key Stage 3 is designed to facilitate learners to grow independently, with a Design, Thinking approach in mind in whatever we do. Curriculum content in core and specialist subjects links to GCSE standards to prepare learners for choosing their options and beginning the courses upon moving into Key Stage 4. Lessons are all pitched at curriculum standard within the Key Stage, allowing learners to develop application, analytical and meta-thinking skills in all subjects. Importantly, teachers also offer the opportunity for challenge and tailor learning where support is needed and plan interventions when necessary.
Building on the Foundations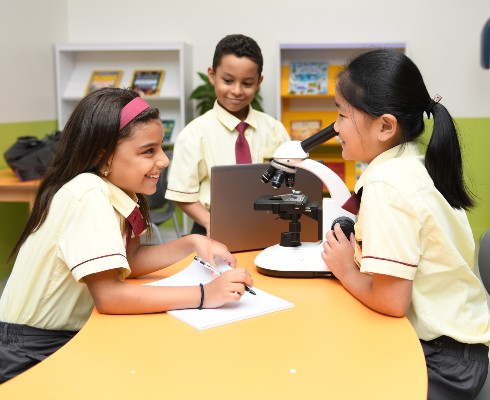 In Key Stage 3, along with the rest of the secondary school, we assess frequently during lessons. Deep marking in core subjects takes place allowing learners to respond and build on the foundations of their work. Progress checks take place frequently in Key Stage 3, whereby the class teacher takes into consideration progress over time to accumulate a milestone of the level the learner is working at.
Much like entering the Key Stage, learners are also supported and given detailed advice and guidance when in Grade 8 to prepare for moving on into Key Stage 4. This is conducted through a steady process of parent-student option and information evenings, as well as one to one advice from the school counsellor and subject leads about GCSE courses. Particularly in Grade 8, the curriculum reflects the standard expected in Key Stage 4, thus setting our learners up to further their success and surpass their potential when eventually taking their examinations at a later stage in their educational journey with us at GCS.
What does the current National Curriculum look like?

The National Curriculum is designed to provide freedom for teachers. Changes since the previous National Curriculum can be summarized in 3 areas:

English, Math, Science and MOE subjects are compulsory in KS3 and there is a programme of study for KS3 that is more demanding than ever before.
There are some new elements in the Programme of Study for KS3 (most of which are shared with the new GCSE) – increased focus on grammar and vocabulary, transcription and translation, authentic and literary texts.
There are no longer any National Curriculum levels. Schools are invited to create their own measures of level/progress or follow best practice models from other schools.

What are the facilities provided?

At GCS we are extremely lucky to have a newly renovated purpose-built school with top of the line facilities and resources. In Secondary, we benefit from large open spaces including an AstroTurf football pitch. We are also fortunate to have our own library, with a range of age-appropriate books to foster a love of reading in our learners. Students have the opportunity to use the library and computers to access the variety of resources to support their learning across the curriculum. Our classrooms are all equipped with the latest model BENQ screens which ensures students have access to a wide range of interactive lessons and activities. At GCS we provide students with all the resources (books as well as online resources) and stationery they will need for the whole year which is included in the annual SPEA approved book fees, this ensures parents peace of mind, so that they do not need to purchase any additional books or resources. Every one who visits GCS always comments on the high quality learning environment and overall welcoming atmosphere in the school.

From the Head of Secondary