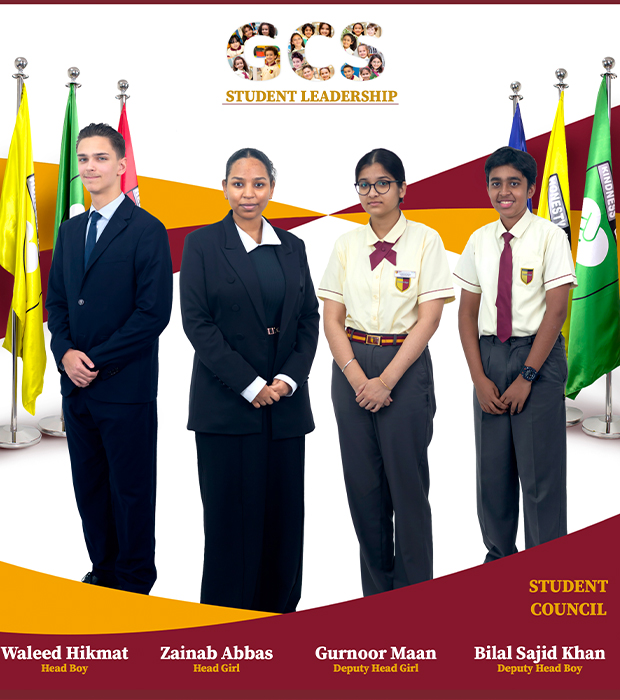 House System and Student Leaders
Nurturing Student Leadership Skills
The House system is a traditional feature of GEMS schools. Houses are a way for students to meet and bond with peers at and across year levels; it develops an ethos of teamwork, fun and pride.
Throughout the year, there are a wide variety of opportunities for students to gain house points and compete in academic, sporting, cultural and fun activities as well as acknowledging the best house at the end of the year celebration assemblies. A House colour will be assigned to every student starting from Pre-KG.
Our GCS School houses are: RED (Respect), BLUE (Integrity), GREEN (Kindness) and YELLOW (Honesty). Children wear their GEMS GCS house colour PE kits on PE days and sports events. At the time of registration, students are assigned to houses randomly with the aim of balancing the houses in order to increase competition. Siblings will be in the same houses.
Student Leadership Skills
As the year progresses, our students have the opportunity to develop their leadership skills. Our vision is for all students to be a leader in some way throughout their time at the GEMS Cambridge International School.
Opportunities could include
In class leadership and responsibilities for all students
Joining the School Council
Head Boy and Head Girl
Student Prefects
Sports Captains
House Captains
Invitations to working groups/committees
Cultural and Performing Arts Leadership