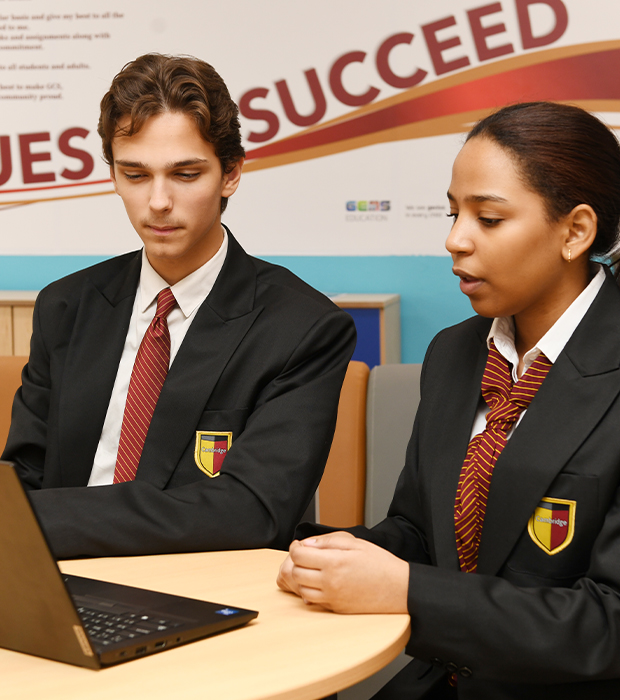 Outstanding Board Examination Results
In 2023, our first cohort of A-levels and iGCSE students at GCS achieved remarkable success with excellent results in both the examinations.
The hard work and dedication of our students, coupled with the tireless efforts of our committed educators, have borne fruit, and we are immensely proud of the outcomes.
In the A-level examinations, our students showcased their academic abilities by securing outstanding grades across various subjects and GCS achieved the status of Second Highest % of A-B Grades of all GEMS Schools with a 100% pass rate.
Their commitment to rigorous study, critical thinking, and problem-solving skills have shone through, reflecting not only their intelligence but also their determination to excel in their chosen fields of study. These exceptional results have opened doors to prestigious universities and promising academic and professional opportunities for our graduates.
Our iGCSE students exhibited exemplary performance, demonstrating a solid foundation in a wide range of subjects. Their dedication to academic excellence and their ability to adapt to challenging coursework are commendable. These impressive results are a testament to their commitment to lifelong learning and will undoubtedly pave the way for their future educational endeavors.
As an institution, we take great pride in fostering an environment that encourages academic excellence and personal growth. These outstanding results in 2023 are a testament to our commitment to providing quality education and empowering our students to reach their full potential. We look forward to celebrating their achievements and continuing to nurture the intellectual curiosity and ambition that drive our students towards success.