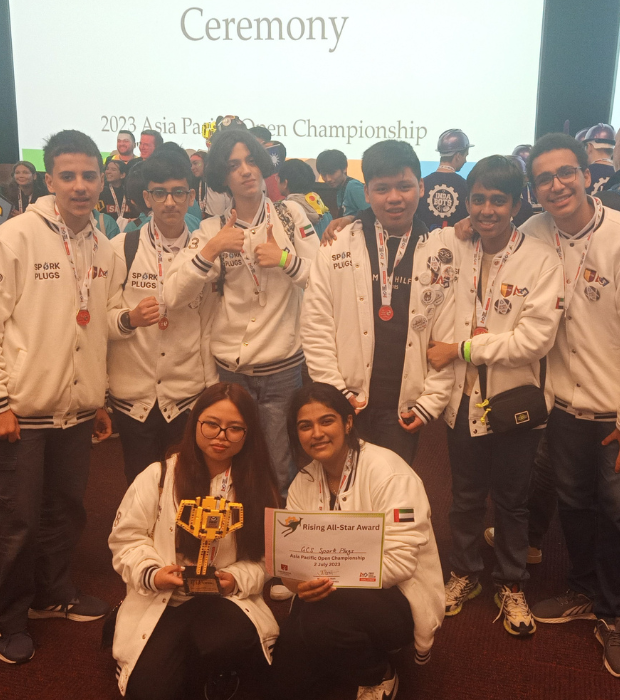 Team GCS Spark Plugs of the United Arab Emirates wins the 'Rising All-star Award' in the Asia Pacific Open Championship in Sydney, Australia
Held in Macquire University
GCS is proud to announce that team 'GCS Spark Plugs' of the United Arab Emirates is the winner of the 'Rising All-star Award' from the Asia Pacific Open Championship in Sydney, Australia. Team GCS Spark Plugs, an 8-member team from GEMS Cambridge International Private School - Sharjah made history by being the first ever school in GEMS and the whole country to represent UAE in the First Lego League Internationals competition. GCS students have carried the flag of the United Arab Emirates on their way to Sydney, Australia to present their innovative and robotic skills through their innovative project – Floation.
Floation is a hybrid renewable energy system, consisting of solar, hydro and wind power and is the teams' product which is titled as the UAE's Innovation Champion for this year's First Lego League Competition themed 'Superpowered'. The team have also showcased their robotics and programming skills as they have successfully built and coded their robot, named 'Blaze' which was able to perform and collect the energy units from all their FLL missions. PFA images for your reference.
GCS is extremely proud of our young budding innovators and once again congratulates them for achieving the International Rising All-star Award - Team GCS Spark Plugs!